Splash, Splash, Giggles and Foamy Bubbles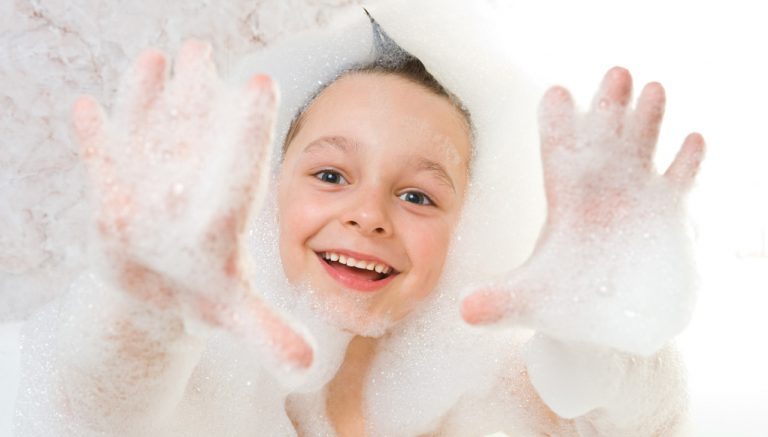 There are few days in your life when you feel God has been real kind to you. Yes, it was one such lucky day for me. Mishi ate her breakfast without any fuss, took a bath and then slept off. My dear friend Shruti was visiting me after months and this was just the perfect day with no hassles so far. Shruti left her four-year-old daughter Shanaya with her grandparents and came to see us. "How does it get any better than this for both of us" – finally we get some time together to have endless conversations of the past. Out of many conversations we had, Shruti cautioned me to take extra care of Mishi this summer. She specifically mentioned it, for a healthy child it is important to have her skin nourished and hydrated all the time. Skin is their first line of defence from the outside world. I said confidently, "yes, I do take care of her and since its summers I give her a bath regularly." She happily smiled and said, "Make bathing an exciting experience for her. You know Shanaya used to hate taking baths. It was always a formality for her and this routine task was getting tougher every day for me. To add to my woes, her skin was becoming dry day by day. That was a difficult phase. But now things have changed, Shanaya loves to bathe. We both laughed at it. I was curious to know what Shruti did so special to make her daughter feel happy and excited for a routine activity like bathing.
Shruti then said, "I used to hear stories from fellow mothers about children having fun while bathing. My story was completely opposite. I had endless tales of how bathing was a nightmare for Shanaya. Soon I realised that her skin was losing the glaze and the shine day by day. My initial agreement with so many products was dissatisfying. Kids skin is very different from adults. Their skin is more vulnerable to irritants, humidity and temperature. It was a constant struggle to protect Shanaya's skin from harsh cleaners and keep it hydrated. I was looking for something that would keep my daughter's skin nourished, healthy and at the same time make bathing time a pleasant one. And then I found my magic wand in "Carrie Junior." I excitedly asked, "What is it?" Shruti continued, "Carrie, the elephant is Shanaya's bath time buddy. Carrie Junior's bathing range are her favourite. They come in beautiful, colourful bottles and are easy to hold and squeeze them. I have never seen Shanaya so happy while bathing. She now looks forward for her bathing time. And my greatest worry about her skin becoming dry faded away gradually. The body wash, shampoo is specially formulated with "Fruito-E", which is a natural combination of fruit extracts. It is rich in nutrients and vitamins and has all the essential elements to keep your child's skin hydrated, nourished and moisturised. I could visibly see a difference in Shanaya's skin. It was no longer dry, rough but soft, smooth, ravishing with a healthy shine. Shanaya fell in love with those colourful bottles. She loves splashing the foamy bubbles and the aromatic fruity fragrance makes the bathroom a magical world. The body wash, shampoo all come in different variants. But Shanaya'sfavourite is grapeberry. And all her bathing activities like splashing water, squeezing bath liquid from bottles and playing with them is strengthening her skills too." And suddenly we could hear my daughter crying, awake from her beauty sleep. As I carried my little angel in my arms, I could hear Shruti saying, "Carrie would be your child's best bathing buddy soon too." I smiled, kissed my little one and made a promise to protect her from everything.